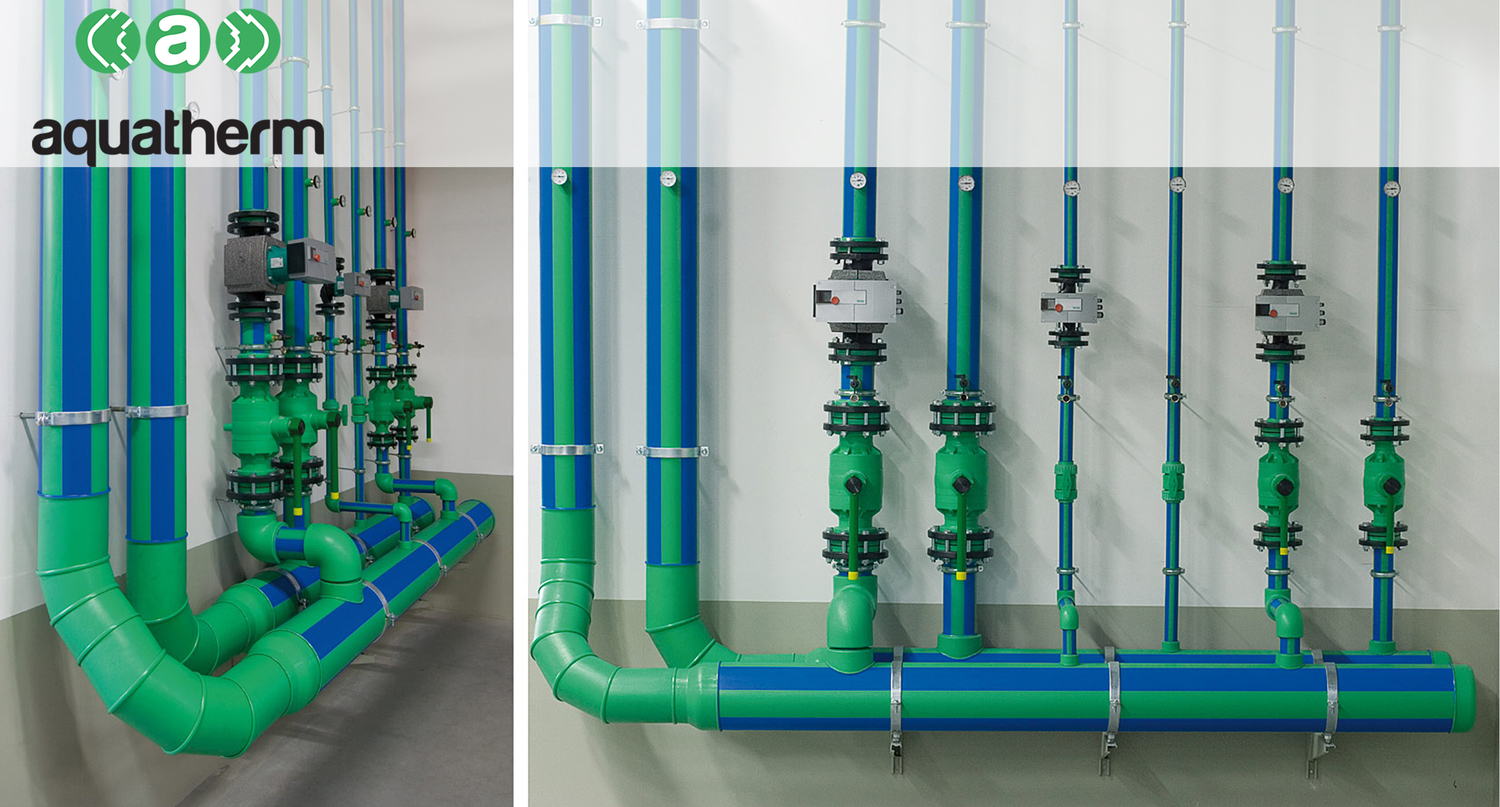 It's a new year, and we have a new Spotlight Partner: Aquatherm, the global leader in polypropylene-random (PP-R) pressure piping for potable, heating and cooling, industrial and cooling and greywater applications. For more than forty years, Aquatherm has produced the most advanced and environmentally-friendly piping systems in the world, offering long-lasting, fully recyclable, rust- and corrosion-free plumbing solutions that deliver excellent performance, quality and cost savings.
Aquatherm's products are heat fusion welded, using heat and pressure to create a reliable connection that eliminates leaks and leaching. Engineered to carry virtually any fluid and air medium, Aquatherm's diverse portfolio of pipe and fittings gives AMS multiple options for all of River Vine's plumbing needs. Aquatherm Green Pipe® will be used for River Vine's domestic water, while Aquatherm Blue Pipe® will be used for the residence's geothermal system. Designed for hot and cold potable water and food-grade applications, Green Pipe has excellent physical strength and is completely free of toxic chemicals and heavy metals, setting the standard for the delivery of safe, pure, clean-tasting drinking water. Blue Pipe is engineered for hydronic and geothermal applications, delivering the same high performance as Green Pipe. Both products come with an optional patented faser-composite layer, which reduces linear expansion by 75%—essential for hot water applications.
"The ideal piping system won't leak, fail or malfunction, performing reliably and consistently, with virtually no maintenance. We've used Aquatherm products in AMS buildings for many years and find the company's quality and service to be among the best around. Lightweight and easy to install, Aquatherm systems have natural sound and heat insulation for quiet, worry-free operation, and unlike metal pipes, Aquatherm's pipes are chemical-resistant—a safer option for drinking water and food processing."
Tony Sarich
Co-founder, AMS/Gen7 Schools
For more information, visit the Aquatherm Products page.