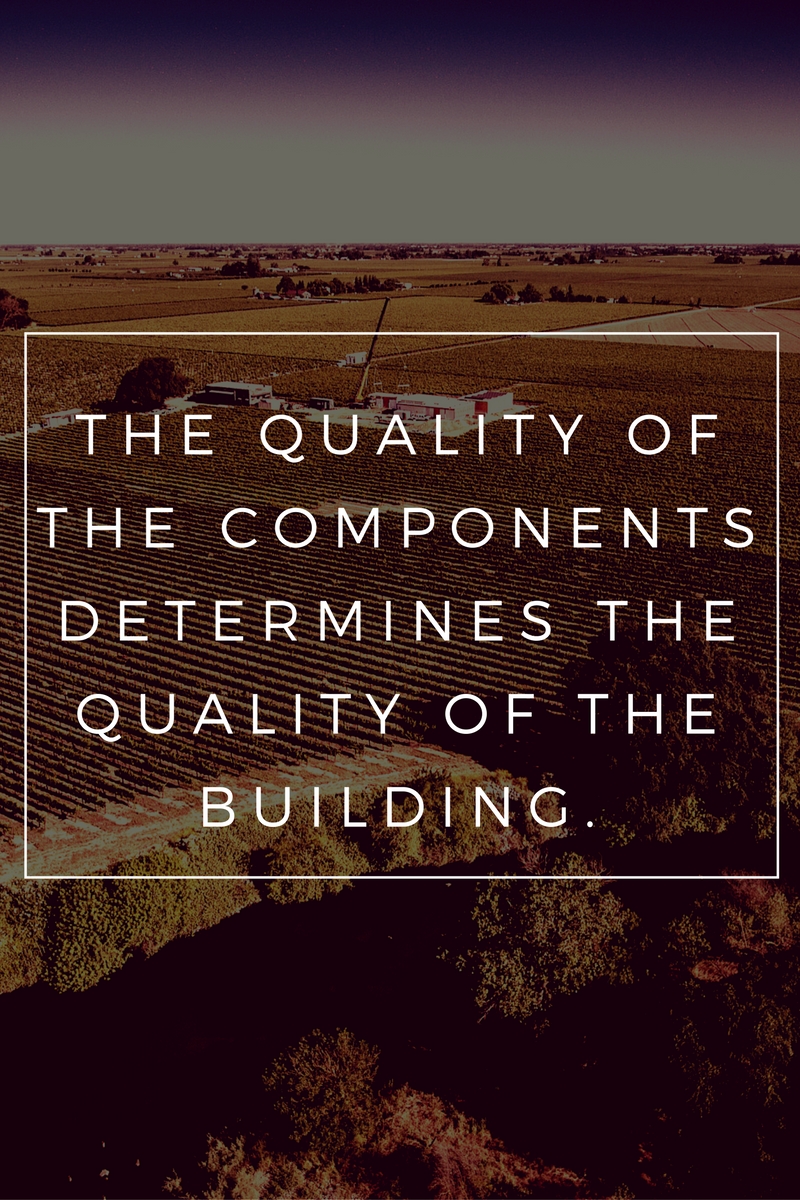 Quality In, Quality Out. In technology—and green building—it's the ideal outcome. No matter how well-designed or efficiently constructed, a building is only as sustainable as the materials used to build it. The quality of the components determines the quality of the building.
AMS has always been quality-focused, committed to using good materials that are good for people and good for the environment—in our Gen7 prefab classrooms and now in River Vine. We use recyclable and natural materials made from renewable resources, locally and regionally sourced whenever possible. We carefully select components that resist mold and mildew and avoid those that emit volatile organic compounds (VOCs). But we want to do more. Instead of just building schools and homes that are greener, we want to build buildings that make people healthier—buildings that have cleaner indoor air and a greater resistance to contamination. That starts with the products we choose. Because other companies' products become part of ours, we want to work with companies whose values and high standards mirror ours, too.
The Declare Label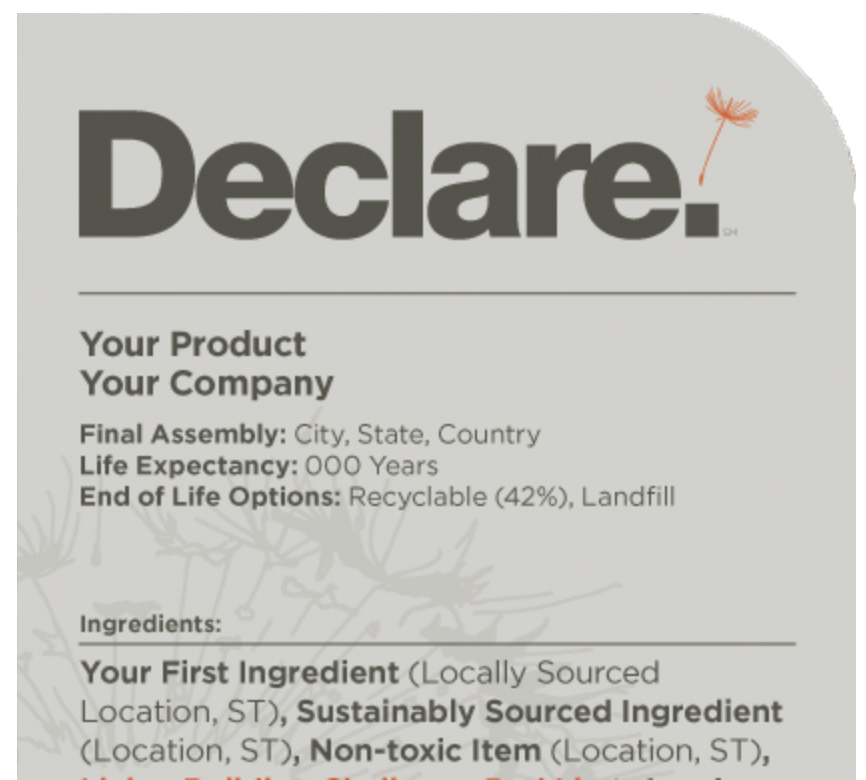 Choosing the right product depends on having the right information—information that hasn't always been readily available. To simplify product selection, the International Living Future Institute, founder of the well-known green building certification program, the Living Building Challenge, developed an ingredient disclosure label for buildings. Modeled after food nutrition labels, the Declare label promotes transparency, clearly listing a product's components, as well as its assembly site, life expectancy and end-of-life options. Full disclosure helps builders make informed decisions, allowing us to pinpoint and compare products that meet our specifications to optimize the health and safety of our supply chain. It takes a strong commitment to make a safe, sustainably-sourced product. The government regulates only a few of the toxic substances that can cause adverse health effects. While many companies avoid the use of known toxins, thousands of "chemicals of concern" are widely used in products that find their way into our homes, schools and public buildings. It's up to the modular building industry to self-regulate, safeguarding the health of our buildings through the materials we use to build them.
A Pathway for Positive Change
The Declare label is a top-down commitment, signifying companies that are taking a leadership role in safe, environmentally-responsible building design and manufacturing—companies like VaproShield, one of our River Vine Project Partners. VaproShield's WrapShield SA Self-Adhered is the first water resistive barrier/air barrier self-adhered sheet membrane system to earn a Declare label. With zero VOCs and no Red List chemicals, WrapShield SA Self-Adhered system ensures that River Vine's building envelope stays toxin-free, improving both indoor air quality and energy efficiency. At the end of its useful life, WrapShield is 100% recyclable, helping lower River Vine's ecological footprint.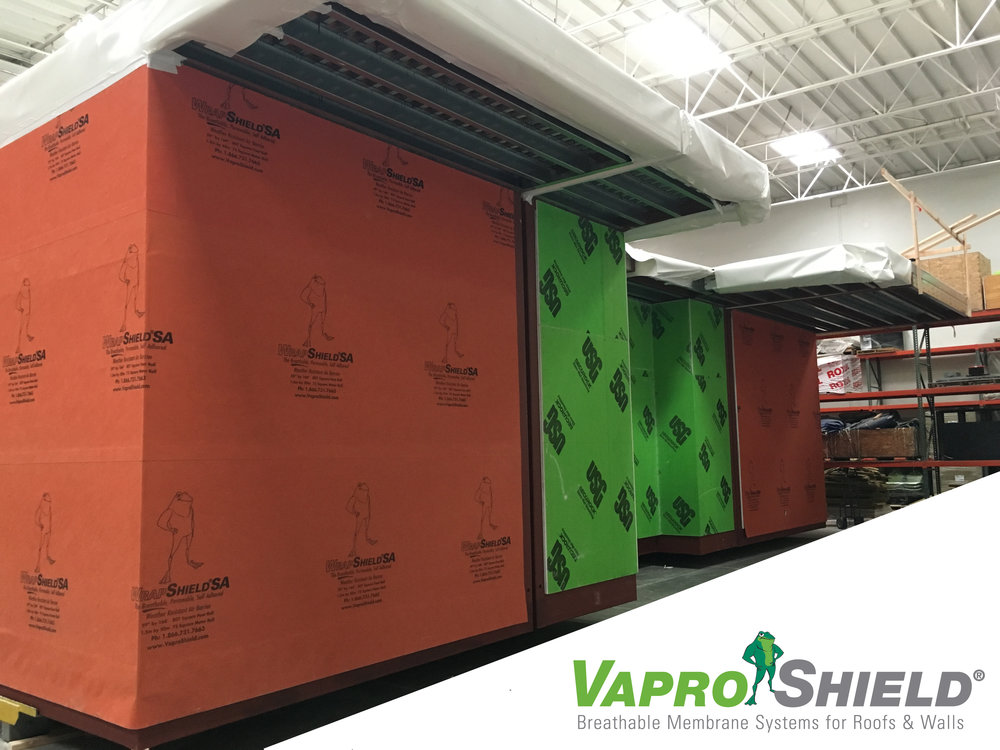 Ultimately, the Declare program provides more than a basis for product evaluation, it provides a pathway for evaluating buildings based on the products that are used to construct them. Materials that are healthy for homes are healthy for schools, allowing AMS to standardize product selection across buildings, using high quality products that we know are safe and sustainable in both River Vine and Gen7 classrooms. As environmental labels and declarations continue to mainstream, we're encouraging all of our product partners to disclose their ingredients. Transparency benefits us all, making a positive impact on the health and quality of our buildings and the health and quality of life of the people who live and learn in them.
Learn more about River Vine's sustainable products and project partners.