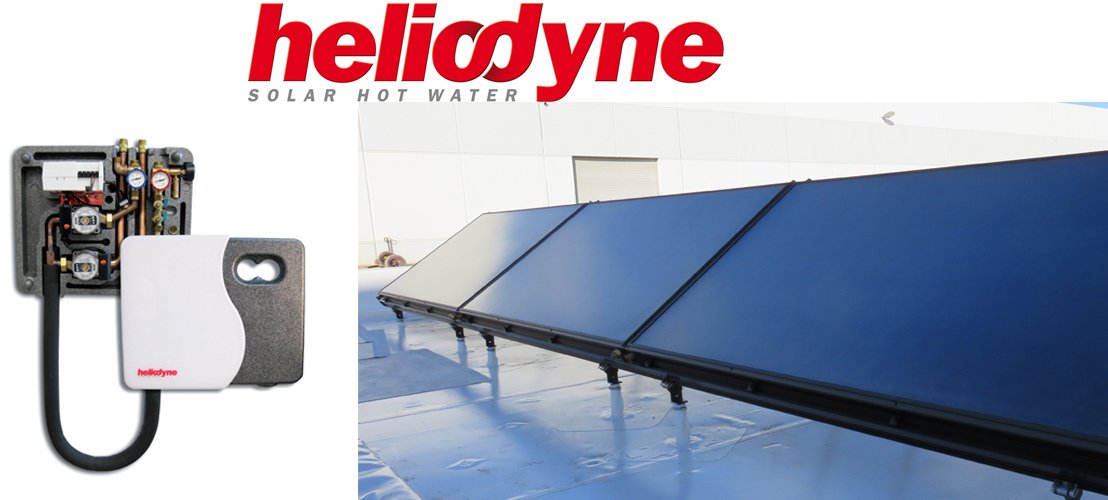 Today, we're spotlighting another River Vine Project Partner—Heliodyne, Inc., a leading U.S. manufacturer of solar water heating equipment since 1976. A pioneer in solar hot water, Heliodyne offers a full line of flat plate collectors and heat transfer equipment—all SRCC and IAPMO rated, ensuring that they are built and perform to the highest standards.
Solar thermal water heating is integral to River Vine's Zero Net Energy design, allowing us to use free energy from the sun to meet our domestic hot water needs. We rack-mounted three of Heliodyne's GOBI solar flat-plate collectors on River Vine's garage roof, positioning each 4' x 6' panel to face south for maximum daily sunlight collection.  The GOBI line's slim, low-profile design gives it a subtle rooftop presence that blends in with River Vine's clean-lined facade, enhancing aesthetics as well as heat absorption and efficiency.  For optimal performance, we chose a blue sputtered absorber surface that improves solar radiation, with minimal emission—the best choice for the moderate climate in California's Climate Zone 12. Each collector is quality-constructed from environmentally-friendly materials, featuring an anodized aluminum frame, no-solder connections and factory-installed DYN-O-SEAL unions for industry-best durability and reliability.
"Having a continuous supply of hot water is essential, so we wanted a top-rated solar water heating system that would meet our daily needs efficiently and dependably. Like AMS, Heliodyne is an established company that invests in product innovation and development. The tapered thin-panel collectors mount easily and discreetly on River Vine's low-slope roof, working seamlessly with both our building design and our integrated energy systems to provide outstanding heat output and durability."
Tony Sarich
Co-founder, AMS/Gen7 Schools
For more information, visit the Heliodyne Products page.