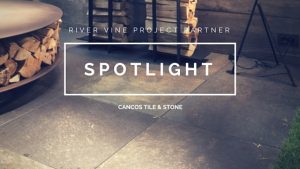 Cancos Tile & Stone is a nationally-recognized importer, distributor and retailer of fine porcelain, ceramic, stone and glass tiles. A family owned and operated business since 1953, Cancos serves the residential and commercial markets, showcasing high design wall and floor coverings in more than 500 decorated room settings located throughout the company's 270,000-square-feet showroom and warehouse facility. An onsite marble and granite fabrication plant features state-of-the-art machinery, allowing Cancos to offer custom designs to meet the unique needs of designers and clients.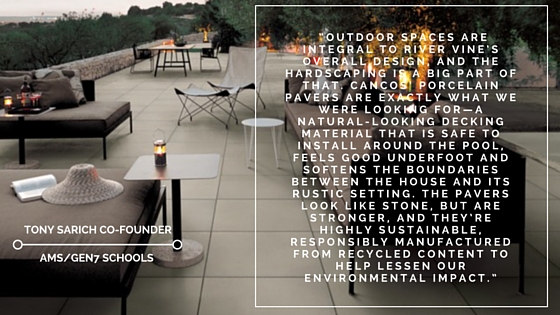 Cancos' extensive selection of indoor-outdoor tile and pavers includes recycled, LEED-qualifying products that are ideal for River Vine's design and sustainability goals. The 2-cm porcelain paver tile is a stylish, eco-friendly choice for River Vine's courtyard, patio and pool areas, with a low-maintenance, anti-slip finish that assures safe footing, wet or dry. Mortar- or gravel-set, the stone-look pavers provide an organic connection with River Vine's native landscaping, transitioning seamlessly between the home's outdoor living spaces, as well as between indoors and out. Designed to hold up to both weather and wear, the lightweight pavers are stain- and scratch-resistant, frostproof and specially engineered for load bearing applications. The pavers are also fade-resistant and heat-insulated—important features since they will be installed on the home's southside, the area receiving the strongest sunlight.
For more information, visit the Cancos Tile & Stone Products page.