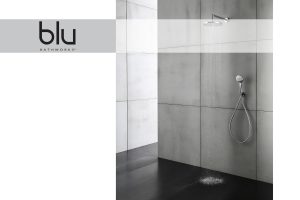 For Blu Bathworks, the opportunity to participate in the one-of-a-kind River Vine concept home was appealing for a multitude of reasons. A partnership between innovative, forward thinking individuals and brands is always exciting; and in this case, Blu Bathworks was particularly enthralled by American Modular Systems' laser-focus on raising the bar for sustainable, prefabricated design and construction.
Blu Bathworks® brand of sustainable bathware is perfectly aligned to meet AMS' Zero Net Energy home target, with all bathrooms incorporating BLU's signature eco-friendly blu•stone™ fixtures, including freestanding bathtubs, shower bases and sinks. blu•stone™ is an exceptionally durable material, crafted primarily from quartzite, with a low-energy production process requiring less time in the kiln at lower temperatures than its ceramic counterpart. Given its recyclable nature, there is limited production wastage, which is great news for the landfill. blu•stone™ material composition provides superior water temperature retention, allowing the bather enjoy a long soak in the tub while reducing water usage. As a highly durable, repairable material, blu•stone™ keeps replacement costs and related energy expenditures to a minimum.
Another sustainable bathroom design integrated into the River Vine home is Blu Bathworks' award-winning electronica digital tapware collection. electronica smart system promotes water efficiency by, for example, allowing users to preset up to three preferred combinations of temperature and flow rate, thereby reducing water wastage trying to reach the required settings. An additional benefit to this technology is the personalized experience afforded to the user.
Blu Bathworks' commitment to developing sustainable bathware products for an ecological future is further showcased in the brand's innovative EcoAir system, incorporated in the thin profile rain shower that was selected for River Vine's master bathroom. EcoAir system provides an incredible 50% water savings by mixing water with external air particles, simultaneously resulting in a comfortable water jet that promotes deep feelings of well being while decreasing consumption and performing better at any pressure!
While the synergy between Blu Bathworks' inherent passion for water and River Vine concept home sustainability goal was undeniable; the mutual vision for beautifully crafted modern design ultimately achieves the exact blend of luxury, practicality and sustainability envisioned for this unique project.
For more information, visit the Blu Bathworks Products page.