First developed in 1995, GraniteCrete is an all-natural paving surface for residential gardens and entranceways, as well as for heavily-trafficked public walkways. Popular in the upscale communities of Carmel and Pebble Beach, GraniteCrete has been used by the California Department of Parks and Recreation on beach access trailheads, successfully delivering maintenance-free performance under extreme weather conditions. Highly durable, GraniteCrete has held up to prolonged exposure to high tides and heavy winter surf for more than a decade, making it a practical paving solution for a variety of landscaping applications.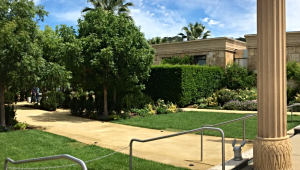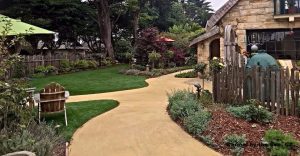 GraniteCrete combines a natural aesthetic with proven performance, delivering the look and feel of a crushed organic surface with the near-strength and erosion control of professionally installed concrete. Certified porous, GraniteCrete will provide a permanent, permeable solution for River Vine's parking areas and pathways, effectively and organically addressing stormwater and puddling concerns in the transitional areas between home and vineyards. Available in four earth-tone colors, GraniteCrete can be custom-colored to complement the surrounding architecture, while softening the line between hardscaping and nature. GraniteCrete's recycled content will make it a high contributor toward River Vine's LEED Platinum goal, adding up to 13 points toward USGBC LEED certi­fication. Distributed through local landscape and building material suppliers, GraniteCrete offers a superior competitive advantage as an attractive, sustainable paving product for both homeowners and professional contractors.
"We're committed to using responsibly-produced, sustainable materials inside River Vine and in the outdoor living and access areas. GraniteCrete offers both consistent product quality and a good value, less expensive than alternative hard-surface pavements, but proven to last for many years in even the harshest weather. It's ideal for River Vine—low-maintenance and easy to install, creating a natural, professional grade surface without the need for rebar or special equipment."
Tony Sarich
Co-founder, AMS/Gen7 Schools.
For more information, visit the GraniteCrete Products page.