Founded in Germany in 1881, FSB has grown from a local cabinet fittings shop to a global manufacturer and distributor of premium quality window and door hardware designed for a discerning audience. FSB's hardware collections are stylish and state-of-the-art, designed by internationally-acclaimed designers and architects to provide many years of exceptional performance and enjoyment. Available in 21 finishes and three signature series—Premium, Elements and Transitions—FSB's product portfolio features door pulls, hinges, locksets and other hardware solutions for wood, glass and metal doors and windows. Every product is crafted to exacting standards from the highest quality stainless steel, aluminum, brass or bronze—sustainable metals that are highly recyclable.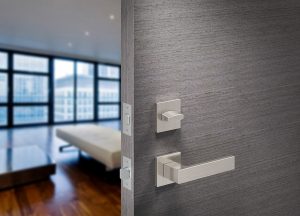 Because River Vine's floor-to-ceiling doors and windows are a dramatic focal point for the home, it was essential the hardware be equally high-end and contemporary to create a cohesive exterior and interior presentation. FSB Premium Series 1076 lever handle set and sliding door hardware 4251 and 4253 were smart choices for River Vine, blending fine European craftsmanship with a sleek, elegant design that is functional, comfortable and architecturally distinctive. The tubular metal construction complements River Vine's clean lines, the lever design feels good to the hand and the satin stainless steel finish is corrosion-resistant, requiring minimal care and showing little wear, even with continuous use.
"When FSB learned we were installing Fleetwood doors and windows in River Vine, they were interested in partnering with us to provide hardware that would enhance the beauty of the custom Fleetwood products. FSB's stainless steel hardware offers the quality, finish, style and performance we wanted for River Vine, providing a pleasing visual contrast with the bronze tones of the metal doors and windows."
Tony Sarich
Co-founder, AMS/Gen7 Schools
For more information, visit the FSB Products page.